EDIZIONI URANIA IS AN INTERDISCIPLINARY PROJECT IN WHICH FASHION, ART, DESIGN, AND MUSIC COME TOGETHER IN A NEW IMAGINARY WORLD THAT DEFIES THE CANONS AND HABITS WITH WHICH FASHION ITSELF IS CODED.
URANIA PUTS VARIOUS LEVELS THAT HAVE ALWAYS CHARACTERIZED FABIO QUARANTA'S WORK TOGETHER. HIS "EDITIONS" BASED ON RESEARCH, EXPERIMENTS, AND WORKING WITH OTHERS COMBINE MATERIALS, SIGNS, SYMBOLS, TRADITIONS, STYLES, AND SUGGESTIONS, INTERWEAVING THE ONE WITH THE OTHER TO ENGENDER DISCOURSE THAT GOES BEYOND PURER CONCEPTS OF DESIGN, SEASONALITY, AND GENDER.
IN THIS SENSE, MORE THAN A "COLLECTION", URANIA IS A SAMPLING OF "EDITIONS", A CONSTELLATION OF CIPHERING AND LANGUAGES THAT TAKES THE FORM OF COLLABORATION, PRESENTATION, OR FASHION SHOW CASE BY CASE AS REQUIRED. NOT ONLY THE DESIGNER, FABIO QUARANTA IS THE IMAGINER AND BUILDER OF THIS MULTILAYERED STRUCTURE, A MAP ON WHICH CLOTHING IS JUST ONE PART OF A WIDER VISION ESTABLISHED IN THE PRESENT THAT BRINGS INDUSTRY AND TAILORY, LARGE-SCALE PRODUCTION AND ONE-OF-A-KIND PIECES, FASHION DESIGN AND VISUAL ART, AUTHORSHIP AND TEAMWORK TOGETHER.
EDITIONS:
ONE-SIZE-FITS-ALL EDITION
VELVET UNIFORM EDITION W/ NICOLA PECORARO
KUNSTHALLE WIEN EDITION
CABLES PAINTINGS FOULARD EDITION W/ MILTOS MANETAS
EST2019 JEWELRY EDITION W/ GIOVANNA MARIA CHIADES
PAINTINGS FOULARD EDITION W/ NATHALIE DU PASQUIER
PAINTINGS FOULARD EDITION W/ SALVO EDITION
SILVER POCHETTE EDITION W/ DUCATI MONROE
ACID GREEN UNIFORM EDITION W/ EX COLONIA ENI
ACID YELLOW UNIFORM EDITION W/ EX COLONIA ENI
RUSTY UNIFORM EDITION W/ LUCA TREVISAVI
NOT ORIGINAL WORKWEAR RUSTY LABEL EDITION
NOT ORIGINAL EVENING EDITION
NOT ORIGINAL MADE IN ITALY EDITION
NOT ORIGINAL WHITE&BLACK EDITION
URANIA HAS BEEN SHOWN AT:
KUNSTHALLE MERAN, MERAN DURING NICOLA PECORARO'S EXHIBITION CURATED BY CHRISTIANE REKADE, JUN 2017 SEE HERE
ALCOVA, MILAN APR 2018 SEE HERE
LRC, NEW YORK CITY, JUN 2018 SEE HERE
EX COLONIA ENI, BORCA DI CADORE, JUN 2018 SEE HERE
NFQ, MILAN (SEP 2018) BUY HERE
ERMES ERMES WIEN, OCT 2018 BUY HERE
SANT'ANDREA DE SCAPIS, ROMA, DEC 2018
KUNSTHALLE WIEN, WIEN DURING THE SHOW 'TIME IS THIRSTY' CURATED BY LUCA LO PINTO, NOV 2019 SEE HERE
EX FABBRICA SASSETTI, MILAN DURING THE MILANO MODA UOMO WEEK, JAN 2020 SEE HERE
MILAN FASHION WEEK, DIGITAL JUN 2020 THISCOVER SHOW SEE HERE
MILAN FASHION WEEK, DIGITAL MAR 2021 AD URANIA SHOW SEE HERE
TEATRINO PALAZZO GRASSI, VENICE, 2021 SENZA TITOLO WITH ANNAMARIA AJMONE
EXHIBITION IN PLEČNIK HOUSE, LJUBIJANA CURATED BY OLAF NICOLAI AND LUCA LO PINTO 2022, KET
CASTELVECCHIO MUSEUM, VERONA 2022, SENZA TITOLO WITH ANNAMARIA AJMONE
NFQ, MILANO 2023, RUSTY LABEL
MACRO -MUSEUM OF CONTEPORARY ART IN ROME- 2023, AFTER SIX
LRCHQEV NEW YORK MAR 2023, AFTER SIX BLACK EDITION ACT II
NFQ, MILAN JUN 2023, AFTER SIX WHITE&BLACK EDITION ACT III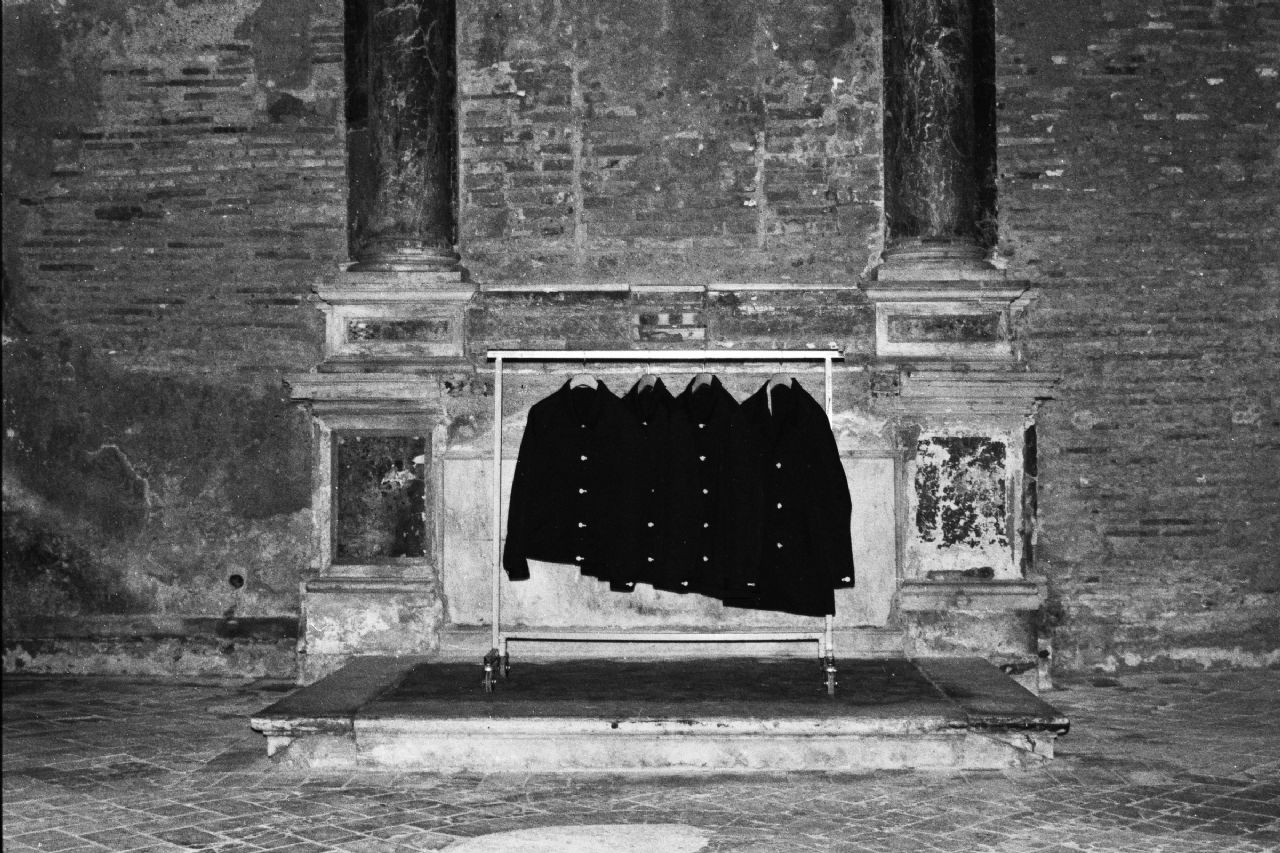 (U)RANIA SANT'ANDREA DE SCAPIS, ROMA, DEC 2018